Panorama of the triptych: Eiger, Mönch and Jungfrau
Beauty, elegance, fine craftsmanship and watchmaking expertise: for the first time, CENTURY equips a ladies' timepiece with a moon phase movement featuring a triptych panorama.
Part of the CONTEMPORARY TIMEPIECE COLLECTION, ELEGANCE has acquired all the attributes of modern chic style. The round case, stylised hour-markers and deliberately clean lines contribute to its contemporary good looks: every detail of this watch has been conceived to bring an air of distinction to everyday life.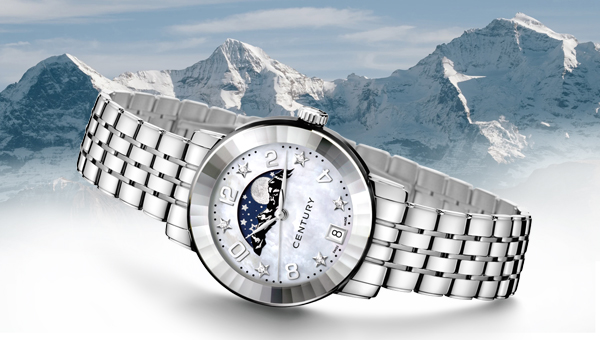 The brand's iconic AFFINITY model comes in a new 30 mm version.
Part of the CONTEMPORARY TIMEPIECES collection, AFFINITY instantly asserts its philosophy: elegance every day, and discreet luxury to be appreciated in daily life. Forged in steel, AFFINITY is first and foremost the epitome of timeless style, defying the passing seasons and changing trends.
AFFINITY bears the most authentic hallmarks of femininity.
Flowers have always represented femininity. They inspire poems, fragrances, paintings and photos. To list all artists seduced by flowers is to trace the history of art itself, or rather, the history of all arts.
From Classical sculptors to the stars of contemporary art, from Van Gogh's sunflowers to Monet's water lilies, from the poems of Ronsard to Japanese engravings and the delicate bouquet of rosa "Ispahan", flowers of all kinds have aroused fascination throughout human history. They can be found in gardens, museums and libraries. Flowers symbolise a love that is endlessly renewed.
In response to their evocative allure, CENTURY has created a smaller version of LEELA BLOSSOM.